Governor Ambode Sacks Lagos State Chaplain For Disrespecting Wife During Anointing Service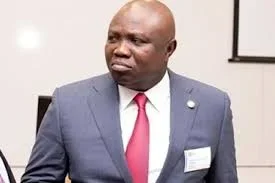 Governor Akinwunmi Ambode of Lagos state reportedly ordered the sack the Presiding Chaplain, Venerable Femi Taiwo.
According to PUNCH, Taiwo got the sack on Monday, May 15, without any query or official reason stated in the sack letter.
He was said to have been ordered out of his official quarters where he lived with his wife and two children within 24 hours of receiving the letter.
PUNCH gathered that Taiwo had angered the Governor's wife, Bolanle Ambode, who had visited the chapel on Sunday, May 14, when the church held an anointing service.
The church is under the Lagos State Ministry of Home Affairs, while the Office of the Lagos State First Lady supervises church.
Church members were said to have filed out to receive anointing oil during the May 14 service without any preference given to Bolanle, who waited endlessly with her entourage.
She was said to have later moved to be anointed and moments later, stormed out of the church, as some of the women leaders ran after her.
Bolanle, who was reported to be visibly angry, allegedly shunned entreaties from the women, which included the wife of the presiding chaplain.
The cleric got the sack the following day.